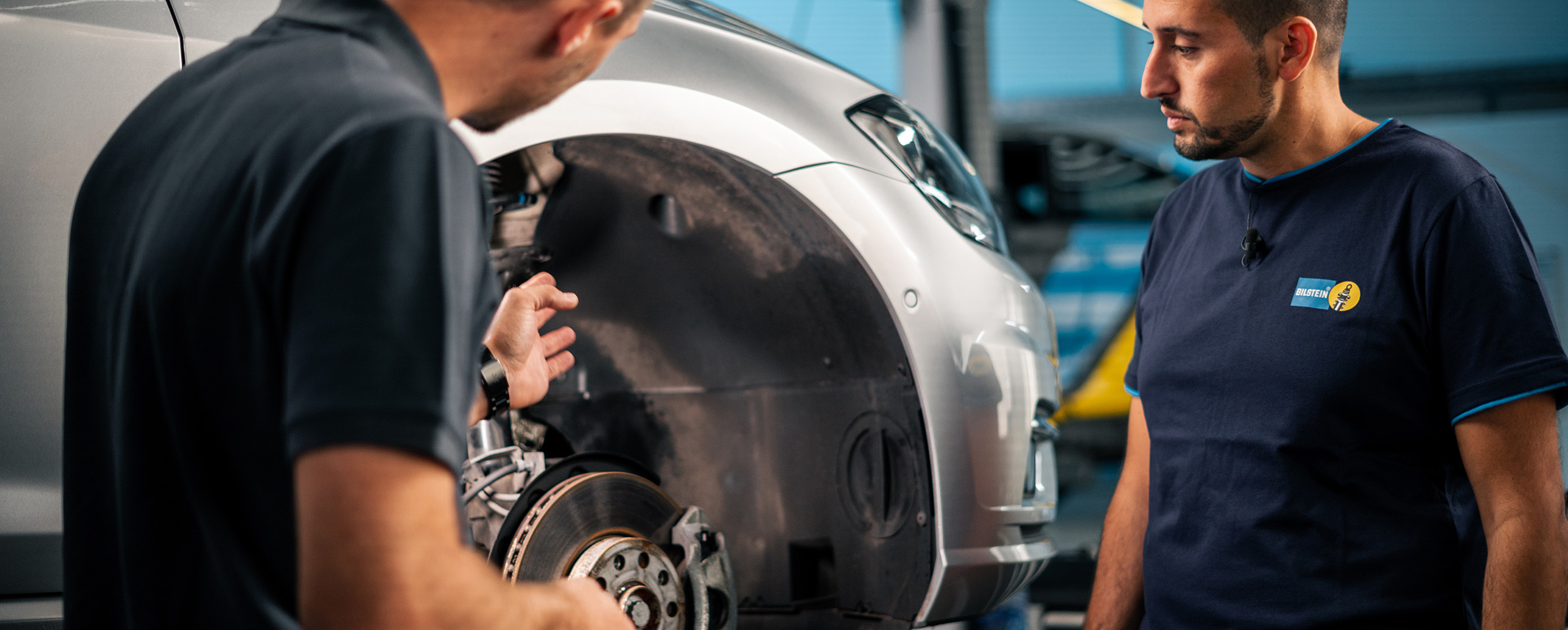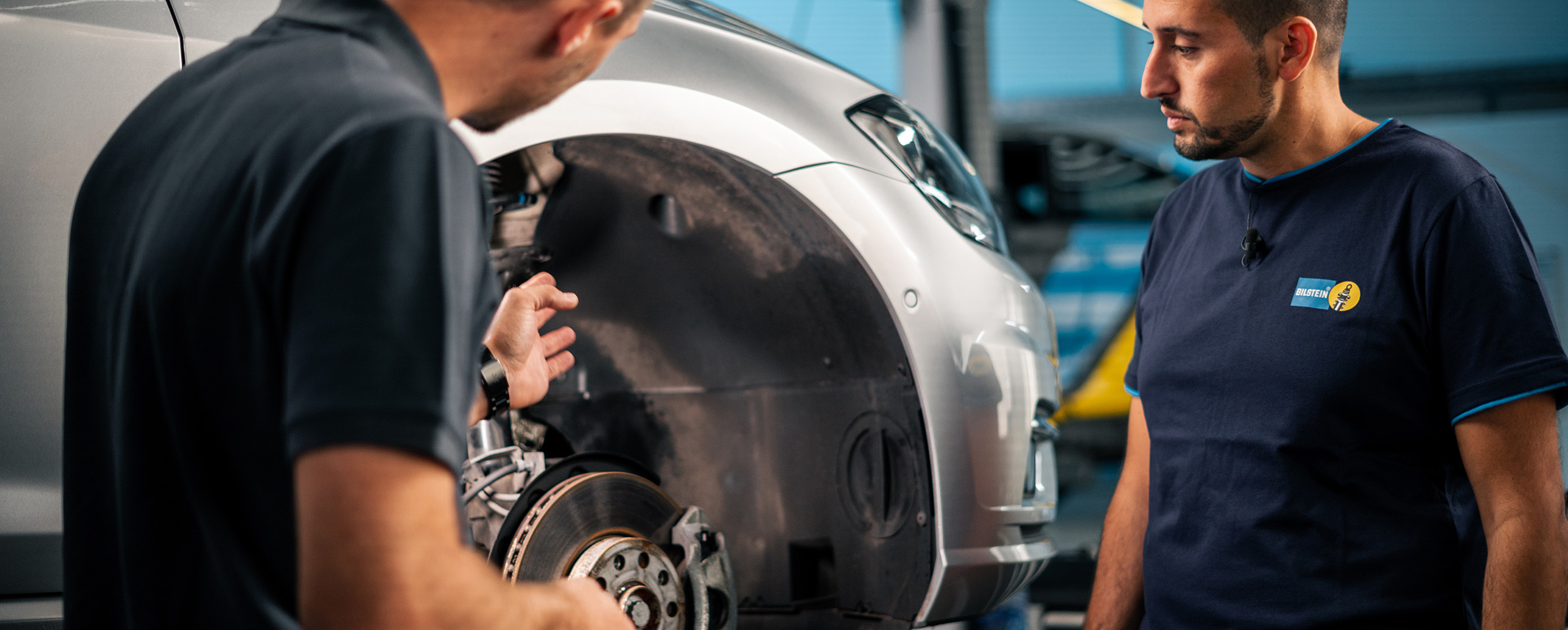 Suspension pictures from botch hell
Dangerous attempts of improvisation and extreme installation errors
As a workshop that has been active for many years, you think you've seen it all. But practice is always good for a few surprises. In this BILSTEIN Academy News we, therefore, would like to show you some extreme damages and improvisations that will make even experienced car mechanics jaws drop.
Drive shaft kills shock absorber tube
Our first well-documented story involves a VW T4. At some point, its owner noticed a pounding noise that could be heard during braking and starting. The driving behaviour, on the other hand, was said to be normal. When the vehicle was subsequently checked in the workshop, it was found that the drive shafts had worn through the shock absorber tube.
The cause was a previous clutch replacement in another workshop, in the course of which the transmission/engine mount was not properly fastened. This has now been done immediately by the other company, and a new BILSTEIN damper was installed. Problem solved.
Double feature with uncertain outcome
In the case of the shock absorber shown in the picture, the person installing it was well intentioned and had also installed the standard bump stop.
What was apparently not known is that, in the upside-down design, the matching bump stop is already mounted on the piston rod in the shock absorber tube at the time of delivery. But even if this had not been the case, this procedure is wrong either way!
The old pressure stop was simply not designed for the new damper and should have been replaced by a compatible component. As a result, an extremely "scary" and possibly even dangerous driving behaviour may occur.
Our recommendation: Remove the old bump stop as soon as possible.
Why spend money on lowering springs when two cheap metal clips will do? With their help, two coils were simply "stapled together" in this obscure example.
We saw this vehicle in person several years ago in our former BILSTEIN workshop. Our colleagues were, of course, only witnesses and not the perpetrators of this dangerous improvisation, which was rather poor camouflaged with underbody protection.
This is not only inadmissible but also extremely dangerous. Eventually, this intervention changes the characteristics of the springs – and thus the driving behaviour–in an unpredictable way. Anyone who tampers with suspension springs without the necessary qualifications and safety precautions is also putting their life at risk. After all, there is a lot of energy stored in the coils, which can be suddenly released if the wrong action is taken.
The rule is, therefore, to remove the old parts and replace them with the correct lowering springs. However, optimum handling can only be achieved with a complete suspension with suitable high-performance dampers–like the BILSTEIN B12.
"Frankenstein's" shock absorber mount
If there is a fatigue fracture in a shock absorber mount, it should, of course, be repaired immediately. This picture, however, which was given to us by a training participant, shows a patchwork that would have done credit to Professor Frankenstein.
Since the participants did not seem to really trust their own welding skills, a screw was "roasted" to the side to reinforce it. This repair was carried out in a highly unprofessional manner, so that the vehicle would have been due for decommissioning after the next general inspection at the latest. In addition, the design poses a significant safety risk.
The correct procedure now would be to replace all affected components immediately. This also applies to the shock absorber, as damage cannot be ruled out.
All that remained was a "bloodless" shell
In this case, extreme noises occurred during compression and extension: The support bearing had broken. However, this turned out to be merely a consequential damage, while the real catastrophe had taken place one floor below. Due to extreme wear, the shock absorber had completely "dried out" and was no longer effective because oil was lacking. As a result, it could no longer control the vibrations of the suspension spring and repeatedly went into traction, which ultimately led to the support bearing bursting.
However, this is just one of many examples of the consequential damage that a defective shock absorber can cause. The chain of possible defects can extend to the tires.
That's why BILSTEIN recommends checking the effectiveness of the shock absorbers regularly and at least every 20 000 kilometres. Eventually, the range of possible complications is wide.
Unfortunately, this did (not) catch the eye
This photo was provided to us by a training participant who works for an inspection agency. A new complete suspension was to be entered in the vehicle documents.
Small note: The exchange of the shock absorbers for those with identical functional dimensions is, unlike the combination with lowering springs, not necessary.
Even at first glance, a serious installation mistake becomes apparent in this case, which only remained without consequences due to a great deal of luck: The screw does not go through the eye of the shock absorber as intended, but passes next to it. At least it was jammed so effectively in the axle beam that nothing further happened for the time being. Unfortunately, it is no longer possible to determine whether a lack of technical understanding or naive carelessness led to this absurd mounting method.
Actually, the suspension had to be installed again as quickly as possible and correctly according to the manufacturer's specifications. After that, of course, all the fastening points and compliance with the legal requirements had to be checked again. Better safe than sorry!
This shock absorber was sent to our Customisation department to have it individually rebuilt. Unfortunately, this was not the first modification: Already before, the piston rod had been extended in a do-it-yourself manner by welding on a pin.
This procedure is of course illegal, but also completely unnecessary. Thanks to its internal modular system, BILSTEIN has countless piston rod variants "in stock" and can even manufacture them expertly to measure if required.
For in-depth interventions like this, the shock absorber is of course completely disassembled and tested. Just putting something on the outside? A strange idea to the professional.
Our tip: If you want to have shock absorbers individually modified, you should directly consult an official BILSTEIN Technical Center or Service Center or contact the Customisation department at our headquarters in Ennepetal: ksw@bilstein.de.