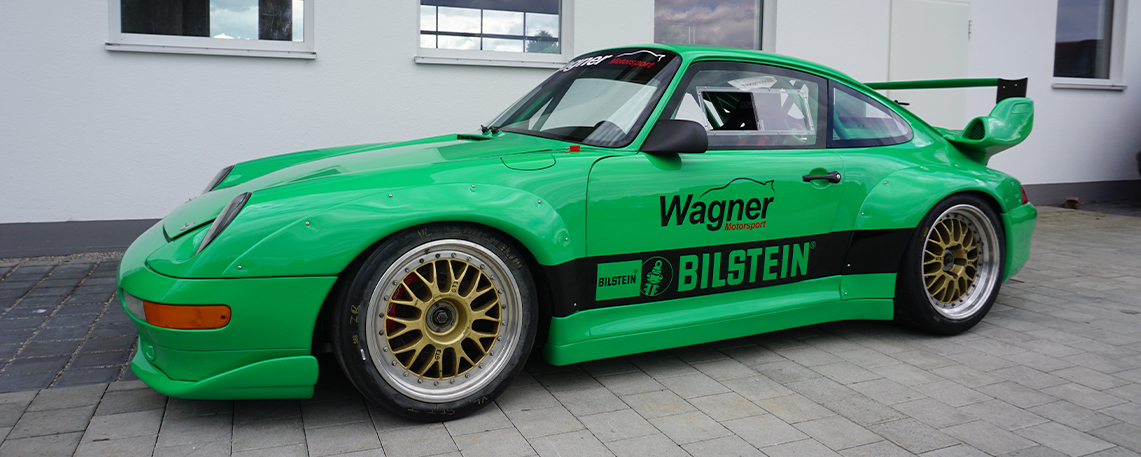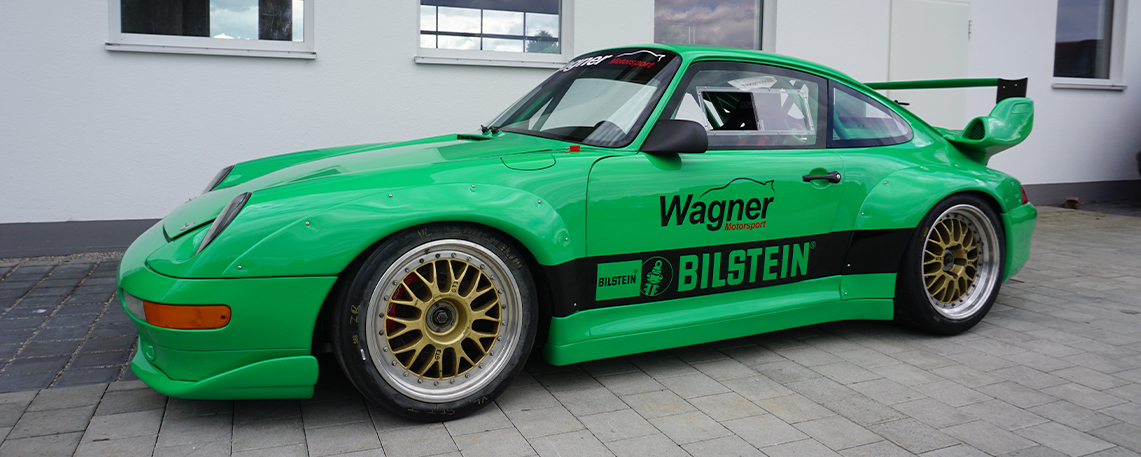 Porsche specialist Wagner Motorsport: "For us, only BILSTEIN comes into question!"
Porsche 993 RSR with 330 hp and BILSTEIN racing suspension
For over 35 years, Wagner Motorsport from Kolbermoor near Rosenheim has been considered one of the top addresses when it comes to Porsche vehicles. The Bavarians make no compromises in terms of suspension and shock absorbers: It has to be BILSTEIN! This BILSTEIN Porsche 993 is a particularly exciting project.
No matter whether it's a 911 G-model, 964, 993, 996 or 997. No matter whether 914 or 944. The company specialises in the repair and optimisation of Porsche sports cars of all model years. Owner Hans Wagner and his son Manuel pay particular attention to installation and tuning of suspensions. The company has been an official BILSTEIN suspension expert since 2013.
But even before that, the Porsche specialists relied exclusively on suspension systems from our company. "It was always clear to us that only BILSTEIN was an option. Because BILSTEIN is the suspension manufacturer that works best on Porsche vehicles in our opinion," Manuel Wagner is convinced. And if customers do want to have a competitor's suspension installed?
"In these cases, we can usually convince our customers of our favourite brand."

smiles Manuel Wagner
So there is little room for discussion. And the current project conversion by Wagner Motorsport makes no difference. As a demonstration vehicle and to show customers what is possible, the Wagner Motorsport team has converted a Porsche 993 into a racetrack-ready RSR.
To do this, the 911 from 1995 was completely stripped down to the bodyshell. A 3.8-litre six-cylinder boxer engine found its way into the rear of the 993. Thanks to a flat-slide intake system, a Fuchs stainless steel racing exhaust system and optimised engine management, the classic air-cooled unit mobilises an appropriate 330 hp. As of now – because the team is already working on even more engine power for the fast Porsche 993.
Naturally, a suspension system from BILSTEIN was also fitted. In line with its purpose, Wagner Motorsport, in collaboration with our BILSTEIN Service Centre N.T.P. in Bolzano/Italy, fitted a special version of our MDS 2-way racing suspension.
This ensures maximum performance in the now green-painted racing car and can be adjusted for rebound and compression stage. Just the right thing for use on the racetrack. Speaking of which: the Porsche completed its first test drive in style at the Salzburgring. "The package worked excellently, especially the suspension", says Manuel happily. After a few laps, the team had to park the Porsche again due to (quality) problems in the valve train. But this was no big deal for Manuel Wagner and his team, quite on the contrary.
"We immediately started to completely rebuild the engine. And given the opportunity, we will increase the power significantly once again!"

Manuel Wagner
You don't need much imagination to figure that this Porsche 911 RSR will sweep the customers off their feet – and will arouse interest for similarly ambitious projects. However, Manuel Wagner is relaxed about a possible rush of customers. Only recently, the Bavarians expanded their workshop by a whopping 225 square metres.