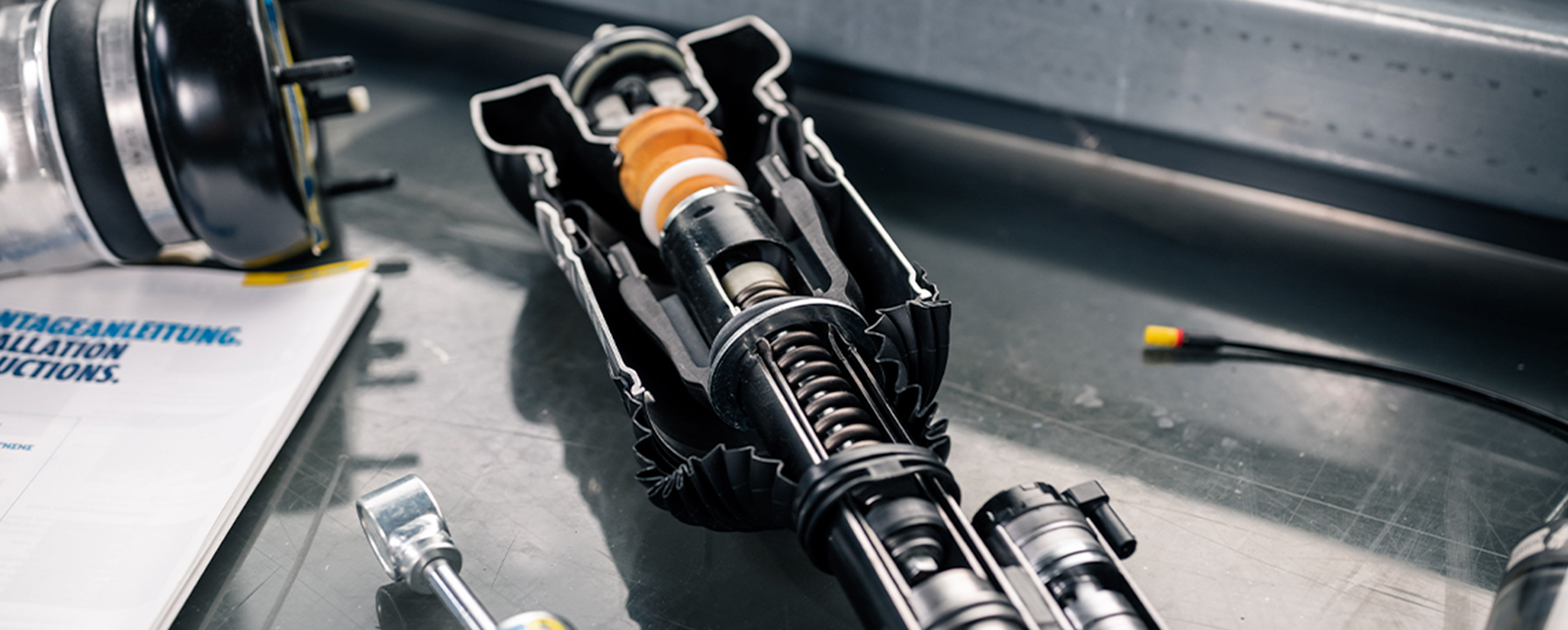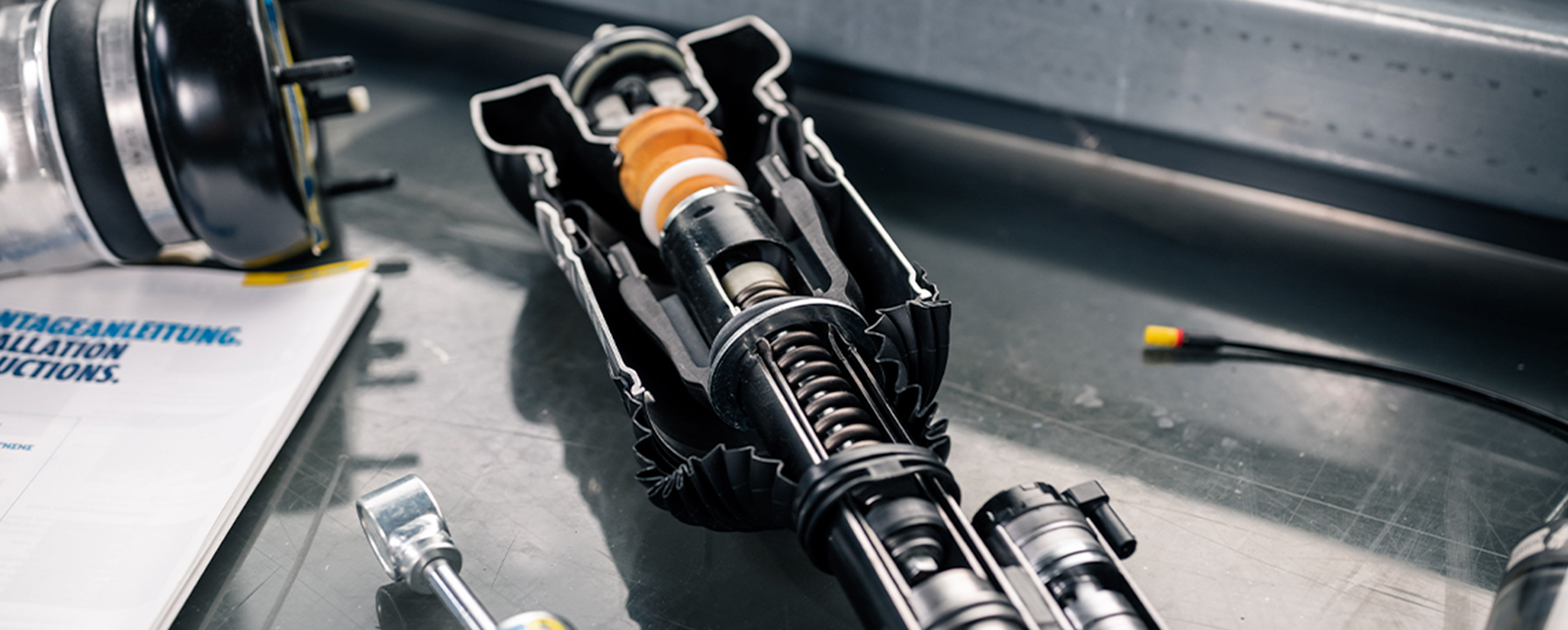 Workshop Tip #6: How to install air suspensions
Cars supplied with air suspension from the factory are becoming more and more popular. In the meantime, independent car workshops are also being confronted more and more often with air suspensions. As is so often the case with innovative technologies, even experienced automotive professionals are often apprehensive about working on air suspension systems. In this video, we will show that the challenges are not that great – but the potential for independent car businesses is all the greater.
Premium suppliers such as Mercedes-Benz, BMW and the like in particular are increasingly equipping their vehicle models with comfortable air suspensions. Sometimes they have air suspensions fitted both on the rear axle and on the front axle. Others only have air suspension on the rear axle for level control. For car workshops, this development means new target groups and new potentials.
Workshop Tip #6: Air suspensions – this is how installation works
Installing air suspensions without major problems
To learn more about the technology of the air suspension module, we have to look inside it. And find that there are many components working there which we are already familiar with from conventional shock absorbers. No surprise, "because the basic tasks are the same," as Mustafa Yavuz emphasizes. The master car mechanic is the one to know: at BILSTEIN Technical Support, the suspension professional assist's car workshops on a daily basis with questions related to shock absorbers, suspensions, and the like. "A shock absorber works inside the air suspension module. In this case, an electronically adjustable shock absorber. Pressure stops or the dust protection collar are also components that are present in a conventional suspension." The air suspension module is supplemented by an air suspension that is filled by the compressor via the pressure line.
There's no need to be too apprehensive about working with air suspensions:
"Because the components are constructed cleverly and safely. You just have to know which test steps we use."

Mustafa Yavuz, Master Car Mechanic
Step-by-step installation of air suspension
The assessment and identification of defects is carried out somewhat differently than in the case of problems with a conventional suspension system. Since the air suspension module is designed as an enclosed component, unlike the familiar suspension struts with open shock absorber and separate spring, oil leaks cannot usually be detected. This makes further checks all the more important. In particular, a test drive to check for noises and driving stability. In addition, automotive professionals can actuate the solenoid valves in order to check the condition of these components.
"If a vehicle with a faulty air suspension is brought into the workshop for component replacement, we look first to see if there is a button or a general operating function that can be used to actuate jacking mode", Mustafa Yavuz explains. "If necessary, we can check this with a diagnostic device. But there are already vehicles that recognize this automatically via the height sensors on the wishbone. And thus automatically activate jacking mode."
It is important that the air suspension modules are always replaced in pairs. "When you order new air suspensions, you also have to check the shelf life", Mustafa Yavuz adds. The rubber bellows of our air suspension modules have a pre-formed shape. To prevent these becoming kinked or compressed and thus forming a kind of predetermined breaking point that can destroy the rubber bellows, the bellows must be filled with air.
Replacement of the air suspension using the Mercedes Benz E-Class series 211 with AirMatic as an example
We supply special installation gauges for selected B3 air springs, such as for the Mercedes Benz E-Class series 211 with AirMatic. This makes installation even easier. To replace the air suspension in the E-Class, the rear axle has to be removed. To remove the old air spring and install the new one, workshops should closely follow the installation instructions, in which we guide automotive professionals through the correct installation step by step using suitable illustrations.
"When we have finished installation and the air suspension bellows have been completely inserted, we have to use our diagnostic device to control the air supply via the compressor," Mustafa Yavuz explains. "This means that we first have to create a primary pressure so that the system fills up with the correct alignment. The compressor is controlled via the system and fills the air suspension, so that the components can protect themselves from damage. Otherwise, there is a risk of creating preliminary damage. The next step is to use the installation gauge. With this, we guarantee the correct and safe alignment of the air suspension to the wishbone and to the vehicle, so that it does not become deformed and the roll folds over. Then we continue to fill the system with air."
A valuable tip: "What I personally always recommend: do not lower the vehicle completely from the car lift, set it down gradually. Before it is lowered completely, pressure must have built up. The engine should also be started, because that way, I get the signal via the compressor when there is enough air in the system."
If you have any questions related to air suspension systems, the experts at the BILSTEIN Academy are on hand to help. Either at Technical Support or through practical training.
Dangerous game with cheap air suspension modules bought over the internet
Rainer Popiol, Head of our BILSTEIN ACADEMY, warns that automotive professionals should give cheap air suspension modules from dubious sources on the internet a wide berth. They are often unbeatably cheap. But the low price is usually at the expense of safety – and often turns out to be a boomerang. If you buy cheap, you are likely to buy twice. At least!
"We also purchase such cheap products at the BILSTEIN Academy, of course, and then analyse exactly what's actually behind them," says Popiol. The alarming thing is that these are often old, discarded air suspension modules that have been spruced up on the outside and made to look "as new". Inside, however, old components that have only been repaired as far as necessary and used shock absorbers of varying mileage are at work. In addition, the solenoid valves are typically inoperable or missing, turning an active system into a passive one. There is therefore an immense safety risk for motorists, and there is a great danger for workshops that customers will be left annoyed.
Cheap air suspension modules often look perfect from the outside. But in fact they are not reconditioned OE replacement parts as good as new, but rather used parts in which individual components have been changed or which even have components missing.
For this reason, car businesses should exclusively rely on BILSTEIN.
We produce air suspension modules for original equipment. And it's precisely this standard and this quality requirement that we also have for our OE replacement parts."

Rainer Popiol, Head of BILSTEIN Academy